To view past Special Features, please click on the Archives tab on the left.
Profile of a distinguished Canadian Child Life Leader: Diane Hart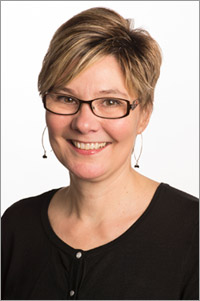 The Distinguished Service Award of the Child Life Council (www.childlife.org) is the highest award presented by the Child Life Council Board of Directors, recognizing exceptional members for outstanding contributions to the field of child life. This award has been given out over the last 27 years to exemplary leaders in the Child Life profession and in May of 2016, Diane Hart, Director of Patient and Family Centered Care at BC Children's Hospital, joined this select group.
Diane's career in child life began at BC Children's Hospital (BCCH) in 1988, where she was employed as a child life specialist on the adolescent unit for 9 years. In 1997, she moved from clinical work to be part of an initiative called ON TRAC—a unique, revolutionary service of support for youth and hospital staff to develop transition pathways from pediatric to adult care. Subsequently, Diane became the supervisor of the child life department, and then she welcomed an exciting opportunity: in 2001, she was seconded to BC Children's Hospital Foundation for one year, replacing a fundraising manager on maternity leave. Diane then returned to her site supervisor position, bringing her newly developed skill set regarding the Foundation and donors, and became the Director of Child Life in 2006.
In 2010, in conjunction with IWK's Child Life Department in Halifax, Diane received the first Canadian fellowship establishing a fellowship opportunity for new child life specialists at both sites for one year duration. Using this successful year of fellowship provision, Diane sought out funding within BC Children's Hospital to be able to continue offering a fellowship in child life for newly graduated child life interns. This fellowship continues today thanks to Diane's collaborative working relationships, her desire to create opportunities for new grads in the profession and the excellent reputation of her work and her department.
In 2013, Diane was very touched to receive the Partners in Care Family Advisory Committee's Award of Distinction, for going above and beyond in her promotion and support of family centered care within the hospital.
In 2014, Diane became the Director of Patient & Family Centered Care at BCCH. Among her many endeavours, she led the initiative to develop a biopsychosocial model of care at BC Children's Hospital which is a new model of care for allied health services. She was also very involved and integral in the site redevelopment occurring on the BC Children's Hospital campus as a new hospital building was taking shape. Previous to this planning process, Diane studied and received her accreditation through the Centre for Health Design with an eye to using this expertise in the upcoming planning process for a new hospital. Being able to use the initials EDAC (Evidence Based Design Accreditation and Certification) behind your name, as Diane has achieved, means you have demonstrated a thorough understanding of how to apply an evidence-based process to the design and development of health care settings. Diane has been a keen supporter of evidence based research in all aspects of her professional contributions.
Throughout her career, Diane has worked tirelessly for her professional body, the Child Life Council. This includes sitting on the Board of Directors at least three times including serving as its President from May 2012 to May 2013. She has been instrumental in setting up and serving on various tasks forces, committees and in advisory capacities to the Child Life Council including Conference Planning, Bulletin publication, Leadership Development and Nominating Committees. Diane is currently the chair for the Governance By-Laws Subcommittee as well as a consultant for CLC's Program Review and Development Service. She has also published a number of research articles and presented at the Annual Conference on Professional Issues of the Child Life Council numerous times. Diane has also been a vital member of the Canadian Association of Child Leaders for many years, including serving as President.
There are countless more examples of Diane's commitment to professionalism, promotion of leadership skills with her staff and colleagues, her enthusiasm in collaborative change to better service to patients and families, her role in education and outreach within and outside the hospital walls as well as many other skills and initiatives.
Diane joined the esteemed company of distinguished members, including Emma Plank, the founder of the profession of Child Life! Diane was presented with this award at the Child Life Council's Annual Conference on Professional Issues held May 2016 in Orlando Florida. This is a well-deserved award for a highly accomplished professional with a great passion for the Child Life profession and its service to patients and families.
Submitted by:
Joanne Hochu, MEd., CCLS,
Child Life Specialist, Child Life Department,
BC Children's Hospital, Vancouver, B.C.